Our Design
At Vitrea, our "Switch to Elegance" motto guides our every design and development move. By fusing style and beauty with smart technology, Vitrea brings both functionality and aesthetics to the home and office.
We believe that it's the small details that make the difference. That's why we work together with leading architects and interior designers, to turn our technological dreams into reality, creating exceptional products, characterised by exclusive designs.
01
Choose
your color
Select from one of our stylish standard colors or custom match your switches to work perfectly with your interior design.
White

Dark Grey

Black

Cream

Red

+

Custom
02
Glossy vs. Matte
In addition to the variety of glass colors and customization possibilities, you can also choose the prefect glass finish that will fit seamlessly with your interior.
03
Choose your
orientation
Vitrea switches, keypads and thermostats can be placed in either a horizontal or vertical position.
04
Customize
your product
Engraved words, icons or other personalization can be added for easy switch identification and customization.
05
Finishing
touch
Choose if you would like your switches or keypads mounted flush against the wall or "floating" on top it.
Read about finishing touch
06
Complete Design with Vitrea Thermostats
Add Vitrea thermostats for full control of your A/C (VRFs or Fan Coils) and Under Floor Heating systems. Enjoy a complete design for your interior.
MORE FROM

VSymphony glass frames for electrical outlets add the finishing touch to your interior spaces for a complete design.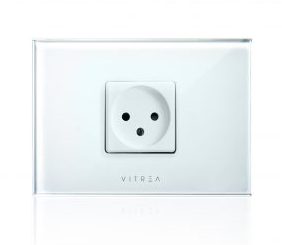 Read about VSymphony