Press
Design Meets Technology at ICFF 2019: Most Stunning Lighting & Home Tech
Highlights from ICFF 2019 contemporary lighting and furniture expo included modern takes on chandeliers, wellness-centric steam rooms and at least one home-automation offering.
Something wonderful lives at the intersection of design and technology and we saw it articulated at the recent International Contemporary Furniture Fair (ICFF) in New York City at the Javits Center.
There was lighting that was said to be the lovechild of a tree and a chandelier and lighting that infused etched plastic with LEDs. We saw speakers wrapped in bespoke fabric.
There was the most beautiful glass thermostat/smart home brand on the market (that's right…we said it) and in the area of wellness, we were introduced to a brand that is elevating home spas in ways that combine technology and design to provide users with the best experience.
Vitrea's Touching Automation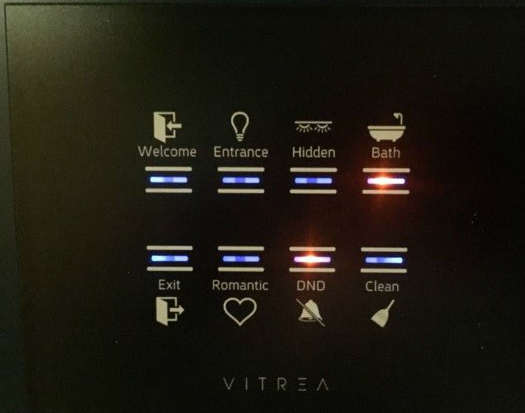 This Israeli-based brand continues to innovate and do it beautifully. They were exhibiting their Vtouch Prosystem at ICFF, claiming that smart homes just got smarter, simpler and more affordable.
Because of its unique ability to simply replace regular electrical switches, VTouch Pro's innovative use of wireless technology provides all of the benefits of a typical home automation system without the need for expensive infrastructure, renovations or complicated, wired installations.
These gorgeous super thin glass panels can be customized or even inset into a wall to create an even more refined look.
Your home's electrical fixtures can all be connected and managed through an app, calendar or scenario switches and of course their system is compatible with virtually all the major players (Savant, Control4, etc.)
They were showcasing both their residential touchpanels as well as their new boutique hotel version which is designed to help facilitate maintenance of the rooms.
We did see many other technology-infused products, and many products that we couldn't say utilize technology in their design, but their attention to detail was such that it reaffirmed my belief that there is nothing too small to be designed.
Long live product designers!